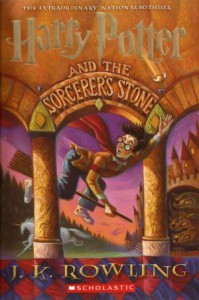 I never ever thought I would read Harry Potter but much to my surprise I did read and even enjoyed it immensely! I had my own reasons for not reading this book much sooner...

Firstly, I thought this book is only for children..
Secondly, the genre 'fantasy' is something I haven't enjoyed reading even though I have tried some books before...
Thirdly, always the much hyped book has turned out be sour in my experience...

Yet I dared to read this book because it was written by J.K Rowling.I had previously enjoyed her writing in The Casual Vacancy and The Cuckoo's Calling though both were very different from each other still I had liked both , so I wanted to take a chance with Harry Potter as well and it turned out to be a great one! I've enjoyed everything about this book be it the fantasy world, the story, the characterization and all those magic at Hogwarts. Above all what I loved the most is Rowlings's writing. I am really looking forward to continue with the series.